Michael McIntyre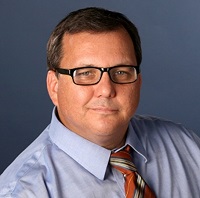 Mike McIntyre is a columnist for The Plain Dealer in Cleveland, where he started as a paper boy in 1976 and s a reporter in 1990. Since 2010, he has been the host of "The Sound of Ideas," the daily public affairs talk show on 90.3 WCPN, ideastream.
In 2010, Mike's writing was recognized by the American Society of Newspaper Columnist with the Herb Caen Memorial Award. This yea,"The Sound of Ideas" was named best public affairs radio show in Ohio by the Press Club of Cleveland. Mike and his wife, Elizabeth, the publisher and editor of Crain's Cleveland Business, were both inducted into the Press Club's Cleveland Journalism Hall of Fame in 2016.
Mike is a graduate of St. Edward High School and Bowling Green State University. He and Elizabeth have a son who is a sophomore at Ohio State University and a daughter who is a high school junior.
We are thrilled to welcome Mike back as our Master of Ceremonies for Coming Home 2018, it is sure to be an evening filled with excitement!